18, and Rector of St Hilda's Katoomba until he died in 1919.

As well, he owned the freehold of a ten acre block of land at Ryde (near Quarry Rd) in 1891, which entitled him to vote for the Legislative Council.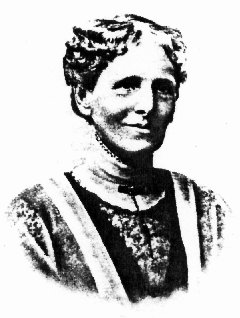 Joseph married Henrietta Alice Griffiths in 1881. Some glimpses of their family life in the 1880s are provided by his eldest daughter, Eirene:
"Went to Broughton Creek when I was a baby, then when I was nearly 1 year, we went to a parish in the country, Nowra, NSW. My four sisters were born there - Edith 1882, Albert (Brother) 1883, Evelyn 1885, Elizabeth (Bessie) 1886, Winifred 1889. Had a nursery governess who took us for walks every day. A small tribe of aborigines used to camp in our grounds every Easter. Mother gave them food, etc.
We had horses and one named Badger chewed up all the clothes (day's wash) left on the clothes line one night!! My paternal grandmother lived with us. When father and mother went out visiting parishioners we would be naughty and my sister Edith was invariably tied to a tree when father and mother returned home.
Father had a big parish and worked so hard he was threatened with TB but the Archbishop moved him to a small mission in the city. In Nowra, every Sunday after taking two services he would ride out (taking sandwiches in a bag) for afternoon and evening services, sometimes staying the night. In one house he visited, the woman said "I'm sorry Mr Best, but there was a big black snake in your room and we couldn't find it". He spent the night hunting for the snake (unsuccessfully)".
Eirene, provides additional background:
"We came to the city when I was 10. The people at St Matthew's Bondi didn't want my father (nothing personal; they didn't even know him), but the Archbishop wouldn't give them the man they wanted. Consequently, the first Sunday father took the service, the congregation consisted of two people. They gave him a paper signed by 200 people who refused to recognise him as their parson. He stayed there 7 years and they all came back to the church except one man".
From 1900 - 1918 he was Rector of St James' Croydon, where his nephew, Norman and family were members. Norman was a Lay Reader and his daughter, Norma remembers attending church regularly. 'We kids used to giggle at his lisp' she recalled, 'but we were told we shouldn't; it wasn't his fault, he had been kicked in the face by a horse'.
In 1919 he moved to St Hilda's, Katoomba, but he died in August that year of Bronchitis and Cardiac Syncope. Henrietta lived until 1941.



Joseph and Henrietta's children were:
Elizabeth Cowper Kate